About Chuck
Researching, fact checking and writing historical features keeps Chuck using his journalism skills.
Services
Historical research and writing
Feature stories on both athletic and non-athletic topics for print, including travel writing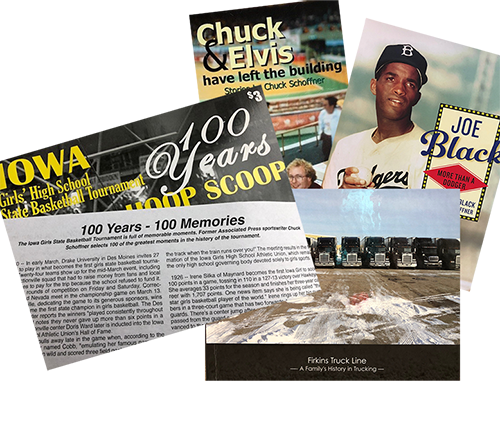 Professional Background
Chuck's 34-year writing career encompassed 27 years with the Associated Press and seven with United Press International. As a sportswriter his stories about coaches, athletes and sporting events — including five summer Olympic Games—have appeared worldwide. But so have the features he developed on authors, professors, scientists and famous Iowans. Chuck began his freelance career in 2005, writing features and covering athletic events for clients such as the Des Moines Register, the Gazette of Cedar Rapids, the Associated Press and the Iowa State University Foundation. He also co-authored a book on former major league pitcher Joe Black, put together a book on the history of an Iowa trucking company and researched and wrote biographical pieces for a client in Florida. Chuck now concentrates on writing athlete profiles and historical pieces for the Iowa Girls High School Athletic Union, Drake University and the Drake Relays, along with occasional work for the Associated Press. He and a co-author are finishing a book on Iowa State women's basketball coach Bill Fennelly.
Personal Background
A Lima, Ohio, native, Chuck graduated from Drake University with a journalism degree. Whether on bike trails, train rails or in jungles, he's a passionate traveler and outdoor lover. Chuck is a member of the Drake Relays Committee, for which chairs two subcommittes, and chairs the four Hall of Fame Committees for the Iowa Girls High School Athletic Union. He has been honored for his work by the U.S. Basketball Writers of America, the Women's Basketball Coaches Association, the National Broadcasters and Sportswriters Association, the University of Iowa, Drake University, the Iowa Girls High School Athletic Union, the Iowa High School Athletic Association, the Iowa Association of Track Coaches and the Iowa High School Baseball Coaches Association.